Growing through the
challenges of ministry together
An interconnected network of

like-minded leaders
Momentum PRO cohorts gather high-capacity Kingdom leaders twice a year to learn from expert leaders, mastermind together through their specific challenges, and intentionally pray and worship with and for each other. Through these gatherings, participants form an interconnected network of like-minded pastors across the nation, all of whom are facing the challenging work of growing thriving churches in a post-COVID culture.
Gatherings are planned for strategic locations throughout the country. At least one of the two yearly gatherings will include visits to thriving churches and ministries that can challenge and inspire ministry leaders toward strategic growth and innovation. Past experiences have included touring North Point Community Church, including a meeting with Andy Stanley, and attending services at Passion City Church to hear Louie Giglio preach. 
Momentum PRO currently has cohorts for Lead Pastors and for Student Ministry Pastors and Directors, with plans to expand to other ministry specialty areas in the future.
We partner with pastors and leaders who are building healthy churches to amplify their Kingdom impact. Let's re-invent the church together.
Be challenged by

ministry experts
During Momentum PRO cohort gatherings, participants are joined by ministry experts who teach and facilitate high-level discussions on the most challenging issues facing churches today.  Participants will find themselves in close-proximity to these highly-sought after leaders with opportunities to ask questions, dialogue over the toughest topics, and engage further, even after our speakers are finished with any formal presentations. Expert guests have included Dr. Juli Slattery, Co-Founder & President of Authentic Intimacy, Ryan Britt, Executive Ministries Pastor at The Church of Eleven22, and Darren Young, President of CRU Canada. 
In between gatherings, participants have year-round access to personalized ministry leadership coaching on topics such as multiplying ministries, multi-site expansion, organizational development, and other topics that are imperative for the continued healthy growth of your church.
Kadi Cole
Executive Director of Leadership Development
Keith Minier
Lead Pastor of Grace Fellowship
Gather in-person twice a year to learn from experts and get solutions to your ministry challenges
Join a group of like-minded peers who are focused on multiplying disciples and building healthy churches
Cost: $2000 per year. Participants provide their own travel to the location, but upon arrival the cohort experience is all-inclusive (lodging, meals, activities, etc.)
Ongoing support and online connections with your peers and experienced ministry leaders
There are two parts to applying to join the
Momentum PRO cohorts:
Step 1: Complete the brief application. Click the apply button below, select the "Ministry PRO Cohort" year you are interested in joining, and fill out the application. 
Step 2: After you complete the application, you'll receive an email link to schedule a 20 minute call with our Executive Director of Leadership Development, Kadi Cole, so we can get to know you better and answer any questions you may have about the program.
We look forward to receiving your application and talking with you soon! If you have any problems during the application process, please reach out to us at info@buildmomentum.org or (574) 267-6622
Momentum Urban Centers

Locations
Momentum Urban Centers has training centers in both Philadelphia and Los Angeles. Each center offers opportunities for believers of all ages to be trained in evangelism and urban ministry. Our passion is for individuals and churches to catch a vision for living ON MISSION so they not only impact our neighborhood but their home communities through our year-round experiences.
We have facilities that are fully equipped with lodging accommodations, showers, kitchen, and training room. We can currently house up to 48 people at Urban Center Los Angeles and up to 75 at Urban Center Philadelphia.
Philadelphia Campus:
210 E. Tioga Street
Philadelphia, PA 19134
Los Angeles Campus:
Momentum Urban Centers

Trip Options
Our trips are designed for middle school & high school students, college students, adults, small groups, youth groups, church leadership groups and colleges/universities. Whether your team is experienced in talking about Jesus with others, or this is their first missions trip we will create a trip to help maximize their experience.
Momentum Urban Centers' heartbeat is to ignite a passion for your team to reach their peers back home. It is not just about a weekend or week-long missions experience. Urban Centers are a springboard to help your team know how to engage with others in their own communities and with those that God has placed in their path!
WEEKEND & WEEK-LONG EXPERIENCES:
Two-Day Trip
Five-Day Trip
Seven-Day Trip
To inquire about available dates for your group, complete the 'REQUEST INFO' form below and one of our Urban Center staff will be in touch.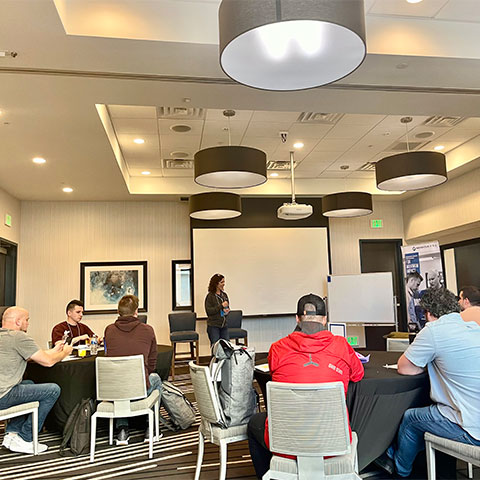 Have questions or want to see if this is a good fit for you? Click the APPLY button, complete the quick application, and schedule a time for us to chat!