Preparing You For Every Day Ministry
An Urban Experience that equips you to live out the Teachings of Jesus in a Modern World
A TRANSFORMATIVE


EXPERIENCE
Step into an immersive mission trip to the heart of Los Angeles. Take home experiences and insights that extend far beyond the trip. Participants will recognize the importance of making moments meaningful, revitalizing lives, and ensuring that Jesus makes sense to others.
Dynamic Training
Cultivate an understanding of how to connect Jesus's teachings with the present-day world, transforming regular conversations into Gospel-centered discussions.
Hands-on Ministry
Engage in meaningful ministry every day, connecting with city residents
and forging spiritual interactions.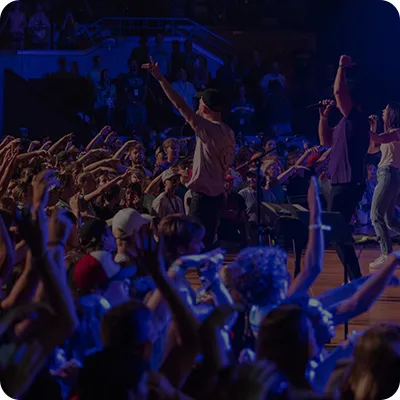 Tailored Mission
Trip Opportunities
Every group is unique, which is why we customize your mission trip to help you build momentum in your ministry.
WHY CHOOSE
LOS ANGELES FOR
YOUR

MISSION TRIP?
Los Angeles isn't merely a mission trip destination. It's an
opportunity to experience the world without leaving the states.
11005 Foster Road, Norwalk, CA 90650
(15 miles from the heart of LA)
Team capacity to host up to 48 individuals.
Fully furnished with sleeping quarters,
restrooms & showers, kitchen facilities,
and a training area.
IN-FIELD MINISTRY


EXPERIENCES
Choose a diverse array of ministry opportunities:
Outreach in
urban areas
for the homeless.
Ministries in
various locations.
Meeting both
the physical
and spiritual
needs of people.
Dynamic children's ministry activities.
Peer-to-peer
ministry.
FLEXIBLE AND
AFFORDABLE


MISSION TRIPS
Catering not just to the youth, the Los Angeles Urban
Center welcomes believers across all age groups.
Flexible Durations
Choose between a 5-day mission trip or a
weekend trip. Our LA location offers an exclusive
opportunity to dive into a 7-day mission trip for
those seeking the most immersive experience.
Domestic Advantage
Experience a powerful domestic mission trip
minus the complexities of venturing abroad. In LA
you will see the world without leaving the states.
Affordability
Immerse in a Gospel-centered experience
without stretching your finances, courtesy of our
cost-effective, short-term mission trips.
WHAT MAKES US


DIFFERENT?
Momentum Ministry Partners shines for its:
Established ties with local churches and their leadership.
Experienced and inspiring leaders.
Specialized training modules.
Focus on hands-on ministry experiences.
Undeterred dedication to a Biblical Worldview.
Equipping you today for tomorrow's opportunities to have
greater kingdom impact!